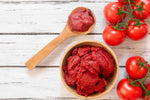 It's time to put those garden-fresh tomatoes to the test with this beloved recipe from Delish. This dish is made to highlight your fresh tomatoes and takes less than an hour to make. We can smell the pomodoro now…
Ingredients (makes 4 servings)
1 lb. spaghetti noodles
2 tbsp. extra-virgin olive oil
1 small yellow onion chopped
3 cloves of garlic minced
4 medium, garden-fresh tomatoes chopped
Kosher salt
Black pepper
A pinch of crushed red pepper flakes
2 tbsp. thinly sliced basil (can also be used to garnish)
Grated Parmesan for garnish
Directions
Bring a large pot of water to a boil and add salt. Once boiling, cook pasta according to directions on the package. Once cooked, take ½ cup of pasta water aside and drain the rest.
Place another large pot over medium heat and add extra-virgin olive oil. Add chopped onion and cook until soft, about 5 minutes. Add garlic and cook until the kitchen smells too good for you to wait, about 1 minute!
Add those garden-fresh tomatoes that you #poppedup and cook until the juices are released. Season with salt, pepper, and a pinch (or two) of red pepper flakes. Stir ingredients and reduce heat, allowing the post to simmer for 15 minutes. Stir in some basil from the garden!
Add spaghetti noodles and 1/4 cup of the pasta water previously set aside. Toss to combine and add additional pasta water to bring sauce together if necessary.
Garnish with basil and (a little…or a lot of) parmesan and enjoy!
Grab a fork and enjoy the veggies of your labor with this delicious dish! Carbs don't count when there are garden fresh tomatoes involved…right? Share your plate with us using the hashtags #mypopupgarden #poppingonmyplate.
Recipe from Delish.com