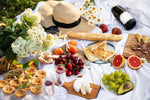 MIXING IT UP: GROWING VEGETABLES, HERBS, FRUITS & FLOWERS TOGETHER
A little texture there, some color there, a little herb, and hey, let's add some flowers! Your garden doesn't have to thrive in just a single season or with a single plant! PopUp Garden was created with that in mind, creating a way to simultaneously grow two separate plants all at once and with limited space. Who says your garden has to be a one-trick p(e)ony?
Now that we've got you excited, it's important to note that there are some things to consider before choosing what to grow together! Not only should you consider how one plant complements another, research needs to be done on the growing requirements for each plant. For instance, growing peppers near strawberries can incite harbor verticillium, a very damaging fungus that can do some serious damage to strawberries and other fruits. Not any healthy growing happening there! Not to mention, who likes pepper-flavored strawberries?
Commonly referred to as companion planting, the diversification method prioritizes planting complementary species of plants in order to maximize plant growth and productivity. With a healthy variety of plants growing in your garden, it is increasingly likely that your plants will thrive and produce more fruit for your labor…literally. Aside from saving space (another thing PopUp Garden does well!) and creating a beautiful array, there are several other reasons why companion planting is beneficial for your garden and its inhabitants.
Keeping soil moist is key in creating a healthy ecosystem for your plants to grow. With less space for open, unused soil, the soil will stay moist and boost plant growth. In a time of frequency of droughts, this can be a lifesaver for your plants.
Kiss those weeds goodbye! Similar to the benefits of keeping soil inhabited, there is less room for those pesky weeds.
Who knew that pests were organized? When you plant in a nonconventional layout, pests will have a more difficult time getting to your plants and your hard work. The separation in growth breaks up the pest buffet!
While the name sounds an awful lot like a cartoon villain, us gardeners sure do love those pollinators! With a diverse habitat and plenty of food, the 'good guys' will show up in full force, helping your garden thrive.
Looking for what to beautify your garden (and maybe your meals) with? Don't jump to Google just yet! To sprout your process on popping up your garden, here are some of our favorite combinations to grow together.
Our Top 5 for Downward Growth Include:
1. Tomatoes (Cherry, Grape and Roma)
2. Zucchini (Black Forest F1 variety)
3. Peppers (Bell, Cherry and Poblano)
4. Pole Beans
5. Eggplant (Bambino variety, produces cherry tomato like clusters!)
Our Top 5 for Upward Growth Include:
1. Peppers (Jalapeno, Serrano and Cayenne)
2. Radishes
3. Herbs like Cilantro, Basil and Rosemary
4. Leafy Greens
5. Flowers! Lavendar is a great companion plant and pollinators love it!
Share a picture of your PopUp Garden 'popping up' with your chosen array of vegetables, herbs, fruits, and flowers using the hashtags #mypopupgarden #poppingupgardens. We can't wait to see how you chose to plant your seeds with PopUp Garden!